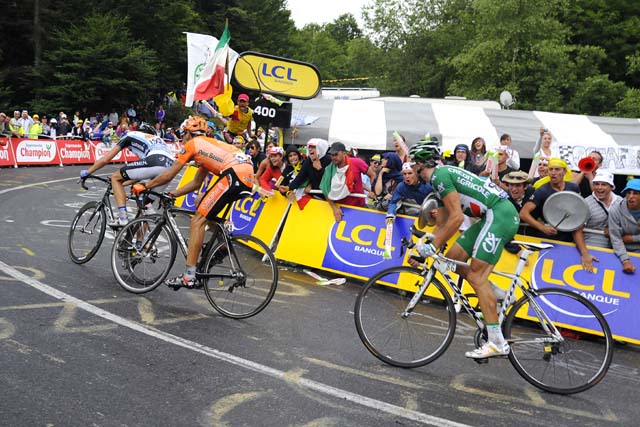 Simon Gerrans trailed Danny Pate and Egoi Martinez but earned his first Tour stage win, in 2008,
thanks to a broken promise, according to his breakaway mates. Cycling Weekly
Monday's outcome proved again that just because Simon Gerrans is 2-foot-nothing, you must not underestimate him.
But before celebrating Gerrans' crafty victory on Stage 3, let's quickly look back to 2008, when Gerrans had broken away on Stage 15, a mountainous escapade that finished in Prato Nevoso, Italy. By his own admission, Gerrans was cooked on the final climb. According to his breakaway mates, Garmin's Danny Pate and Euskatel's Egoi Martinez, Gerrans admitted as much and asked them to slow down for him. Both have said he promised that he'd serve as set-up man for the others on the final descent.
Then riding for Credit-Agricole, Gerrans used his superior turn of speed to slip past both for the victory. Martinez seemed to take the double-dealing especially hard.
"Gerrans said that he would settle for reaching the finish line with me and being second. So when he was not able to follow on the ascent ... we waited for him," Martinez was quoted as saying. "I committed a fatal error, and I have paid for it very dearly."
If true, that was pretty low. I chose to believe Egoi at the time. Since then, Gerrans has been known in our house as The Little Turd, but Tour history didn't prevent me from including him on my fantasy team today.
Peter Sagan was just a teenager when Gerrans won in 2008, but even he knew to keep an eye on him. Gerrans outfoxed Sagan, Fabian Cancellara and Vincenzo Nibali for victory at Milan-San Remo in 2012. His knack for winning mid-mountain stages and hilly classics is well-documented: finishing first last year in GP Quebec and second at Classica San Sebastian. This year, he won stages of the Tour Down Under, Volta Catalunya and the Tour of the Basque Country and was third at Amstel Gold.
Gerrans started the day in sixth place overall. If he could have escaped and pulled back just two seconds on Jan Bakelants, Gerrans would have nabbed the yellow jersey for Orica Green Edge.
Sagan was on Gerrans' wheel, hoping to spring past him. But Gerrans used a quick turn of speed and managed the victory in a photo finish, on the same time as Bakelants. Phil was sure Sagan had clipped Gerrans, until seeing the photo.
The win took away some of the sting for Orica, still smarting from the embarrassment of having the team bus stuck under the finishing line Saturday, and from Matt Goss missing out in the sprints. The bosses said winning something on Corsica was important, so they must be pleased with Their Little Turd.
Sagan consoled himself by taking the green jersey. Europcar's Pierre Rolland escaped long enough on the final climb to rack up some points and stretch his lead in the King of the Mountains competition.